6:00 PM on March 31st, 2023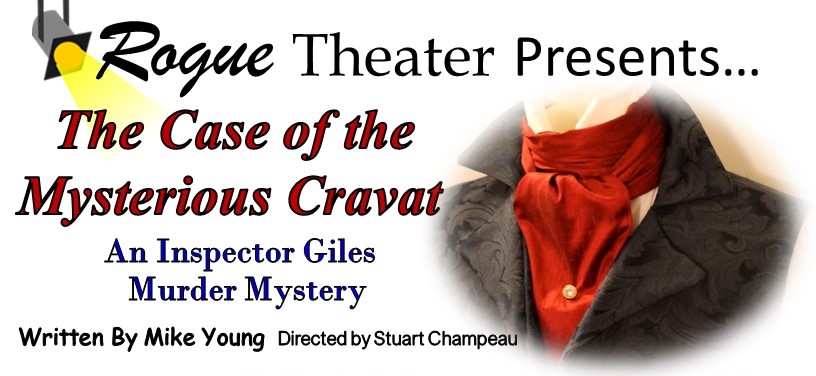 Rogue Theater Presents…The Case of the Mysterious Cravat
Put on your detective hat as Rogue Theater kicks off its eighth season with their annual murder mystery dinner theater. The Case of the Mysterious Cravat – An Inspector Giles Murder Mystery, written by Mike Young, is mixed with jealousy and romance, but can you believe all that you see?
Directed by Stuart Champeau, The Case of the Mysterious Cravat, is a play within a play. The setting of the internal play is the drawing room of the venerable Table Manor, a well-kept, but older British house in the country. The actors are there to perform a show written by one of their colleagues. They are leery of its success, but want to be on stage at any cost. Some members are looking for love, some revenge, and others are just stopping by. Each has secrets and one will be murdered. The real actors will need to rely on their day jobs to help them solve this case. Maybe you can help. Willing audience members play an active role in getting to the bottom of the caper as eye witnesses, medical professionals, and hired help.
The Log Den Dinner theater cost is $55. Ticket price includes show, dinner, tax and tip. Dinner is at 6:00 and reservations are required. Contact The Log Den at 920-868-3888 to make your reservation.
For additional information contact Rogue at 920-818-0816 or 1roguetheater@gmail.com.